Because movie...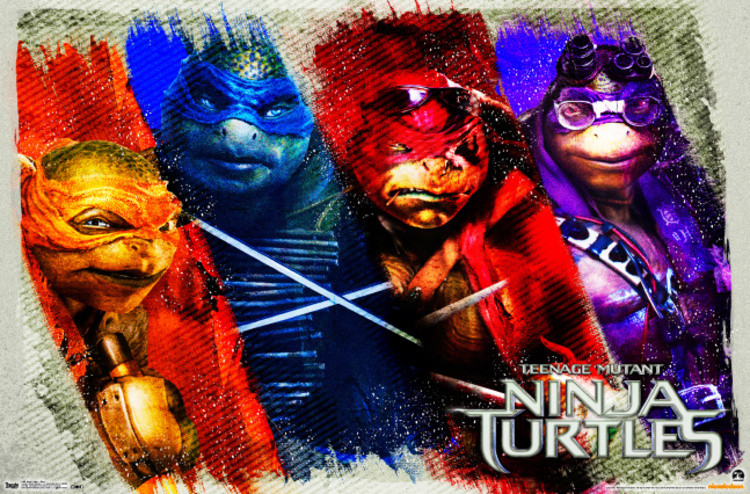 Oh, God, burn it with fire!
OK, despite my feelings about Michael Bay leaving flaming bags of dog doo on my childhood's doorstep, you cannot deny the impact the Teenage Mutant Ninja Turtles have had on the comics landscape and on popular culture in general.
That's better...
Keep in mind that the Turtles hit the industry when comics were serious business. The direct market and local comic shops were developing, Frank Miller was tearing it up on
Daredevil
and
Ronin
, and Dave Sim was championing the independent small press and creating Comics by-gosh Literature. Maybe comics were taking themselves
too
seriously...
The Original.
Peter Laird and Kevin Eastman were a welcome shot of fun the arm of comics needed, and they skewered all of the above like a katana through a pizza box. The isotope that gave Matt Murdock his radar sense and blinded him, was the same one that mutated the turtles. Though they referred to themselves as ninjas, they acted more like sewer samurais. Though the cartoon was far goofier than the semiserious comic, the honor and heroism were TMNT's constants.
And their archenemy was evil to the core.
Shredder, 1984
Eastman has said the inspiration for Shredder was a cheese grater, and Laird had no desire to use him beyond the first story arc. Oroku Saki became a member of the ninja Foot clan to avenge the death of his brother, and rose through their ranks to create an empire built on smuggling and assassination. Brutal, ridiculously intelligent, and completely without honor, he would cheat death again and again.
Turtlllllesssss!
In the cartoons, he gains access to alien technology supplied by Krang, creating robot ninjas (cool) and henchmen Rocksteady and Bebop (not cool). The cartoon actually fills an important piece of back story: Saki defeated a
tengu
demon called a Shredder, but at his brother's death, succumbed to its evil. It also hints that he is the source of his own failures; in one future timeline, he becomes the emperor of New York, but the responsibilities of his conquest overwhelm him, and surrenders to the Turtles first chance he gets.
I have the po...oh, sorry, wrong cartoon...
In a departure from previous films, where Shredder is portrayed as a Japanese Fagin recruiting gang teens to the Foot to commit crimes because
Evil
, Michael Bay's Shredder (portrayed by William Fichtner) is an isolationist domestic terrorist. Gone are the swords in favor of guns...but maybe that's OK. Maybe, 30 years after his creation, Shredder has come full circle, and is once again, like Eastman and Laird intended...
Shredder, 2014.
...one vicious villain.
Cowabunga.